---
Winter Cover Crop Stewardship Program
The Winter Cover Crop Stewardship Program helps farmers establish vegetative cover on their fields before winter. The cost of planting is shared by the farmer and DF&WT. Winter cover crops are beneficial because they:
Provide feeding habitat for herbivorous waterfowl and shorebirds
Protect the soil from erosion due to heavy winter rain
Scavenge excess nutrients like nitrogen before they leach from the soil
Increase organic matter in the soil, thereby improving soil structure
Here are resources you can use to learn more about Winter Cover Crops:
After farmers harvest their main summer crop, they prepare the soil and plant a cover crop. Cover crops are usually planted throughout September.
Cover crops protect soil from heavy rains and shade out weeds. In spring, the cover crop can be ploughed under to provide a green manure for the soil. Clover (left) can also fix nitrogen, an important plant nutrient.
Cover crops provide a food source for migratory waterfowl. These Trumpeter Swans are feeding on a cover crop of winter wheat
Waterfowl graze cover crops throughout the winter. These Mallards and American Wigeon are grazing a barley cover crop...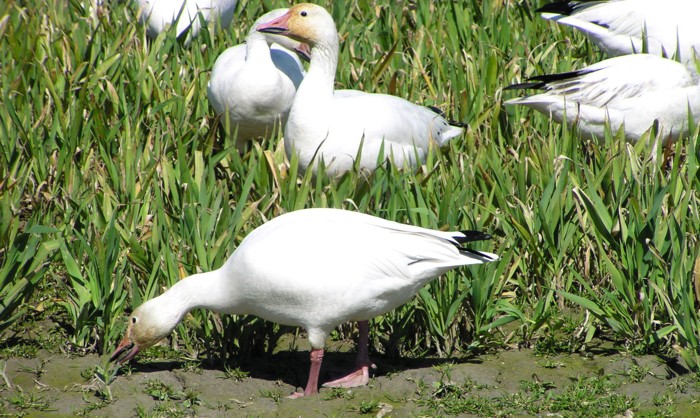 ...and these Snow Geese are feeding on an oat cover crop.