Brent Harris
Fraserland Organics
Cover Crops Increase Soil Health at Fraserland Organics
Brent Harris and his family operate a 6th generation organic farm in Delta, farming nearly 2,000 acres of cranberries (non-organic), peas, beans, barley, cattle corn, and potatoes. Brent is a strong proponent of cover crops, "If we have crops harvested early enough, we will plant cover crops wherever we can."
Brent's journey with cover crops began in 1993, when Delta Farmland and Wildlife Trust (DFWT) was established and began offering cost-share programs. As an early adopter of this practice, Fraserland Organics has been experimenting with various species mixes to maximize the benefits derived from cover crops. Thirty years later, Brent still considers the current mix a work-in-progress, noting that every year the cover crop mix is carefully reevaluated and adjusted. "We'll put things in the mix and assess how they do. Depending on the weather conditions, certain plants will do better than others."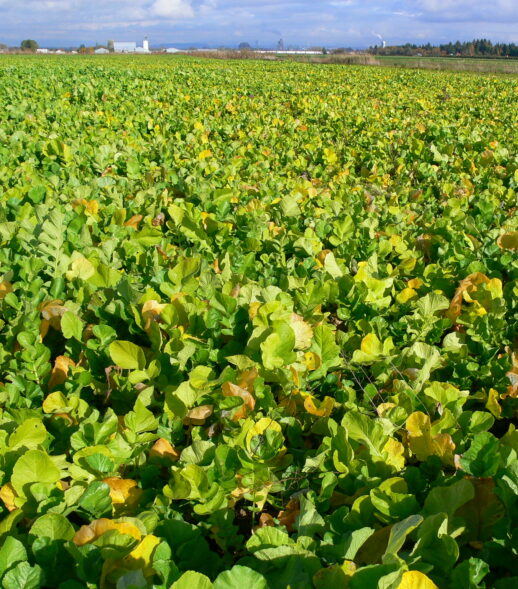 The farm covers their bases by planting a range of species. Some will thrive in dryer conditions, and others are more moisture- and cold-tolerant, and will take over in wetter years. "Having a mix allows for a better chance for survival," says Brent, mentioning that no two years are the same.
Recently, the farm's mix of cover crops has been adjusted to incorporate flowering species that will support beneficial insects and pollinators. When the weather allows early planting of cover crops, these mixes provide late-season flowering resources that can help support native insect populations.
For Fraserland Organics, the soil health benefits of cover crops are significant – they monitor the impacts of cover crops on soil health in various ways, and consistently see increases in organic matter and in soils demonstrating resilience to volatile weather.
When soil is covered during winter months, it helps reduce weed pressure, improves water infiltration, builds organic matter, and secures excess nutrients remaining from the previous crop. Brent notes that it's a bonus if they can gain any nitrogen in the soil through legume cover crops. "Our number one reason to plant cover crops is because it's the right thing to do for our farming system and soils," says Brent, "but having the cost-share programs with DFWT helps us to try something new and allows us to experiment."
Your donation will work towards conserving important farmland and wildlife resources contained in the Fraser River delta.
Sign up for our Newsletter